︎︎Science Press
︎︎Zlab
2015-2016
Technology Support
Zlab
My Role: UX Designer
/ Data Source

Beijing, China
STORY
China National Exhibition of Fine Arts is the most important arts competition in China, people could get promotions and big houses, get into tenure tracks, or sell their works with higher prices with the awards. The Exhibition runs every 5 years, the 6th was in 1984 and the 12th was held in 2014.

Are you curious about what's the preference of National Art Award for?

For finding success tips for National honor of fine art, AwardPuzzle investigates 2272 oil paintings awarded by the Chinese National Exhibition of Fine Art through 1984 to 2012. We present our findings through the patterns of relationship between parameters as geographic, time, color, size and artist, and share the possible tips and tricks as if it is.




AwardPuzzle allows you to explore the whole set of image, and increase your chance of winning.
View the website prototype here
Grid Mode
Grid View shows awards for oil paintings of 6th to 12th China National Exhibition of Fine Arts.
The orders of paintings are from left to right and from top to bottom,
they are the same as the orders in the officially published catalogs.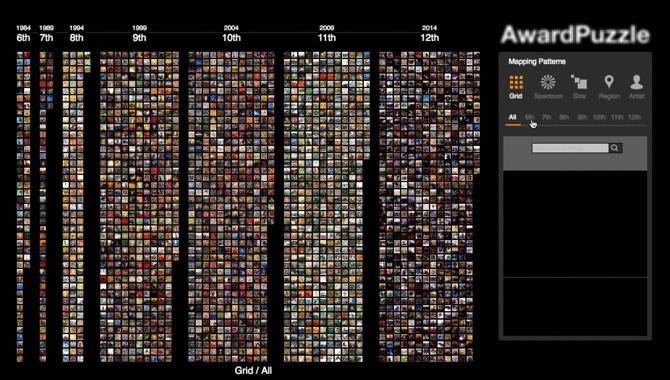 Buttons: click th buttons for yearly views,
and pattern buttons for other mapping patterns.
Spectrum Mode
Spectrum view shows winning Color. Obviously, bright yellow and red is dominating.
Size Mode
Bigger picture: get a better view of the painting by clicking on the mosaic.
Click on any black spot to make it go away.
Region Mode
Region view shows where these oil painting come from.
Artist Mode
Artist view shows how many times he/she won in the history.
Click his/her name to see their paintings.
Searching
click on one of the Tags of the painting, a search for that tag will be running.
Or you can type in the searching box for anything you want to search,
the application will search that string in authors` names, titles or tags.
-
Mobile Version
AwardPuzzle was originally designed for a full HD screen installation.
PS: For better performance, faster accessing devices with larger displays are recommended.
-
Please visit
Mobile Version
for mobile devices.
GREAT
RESULT!
AwardPuzzle was selected finalist in 2016 Data Stories competition
Published on AAAS/Science
A research report of AwardPuzzle (Version 1.0), which was issued in Chinese on Jan 14, 2014, had great impact on the Chinese Fine Art world and had caused a new round of discussions and became a hot topic through more than thirty thousand reposts on social media in the first seven days. Up to now, google search (keywords in Chinese: 全国美展+数据视觉化+向帆) shows 1500+ results of the reports of AwardPuzzle by major newspapers and websites.
In May 2016, AwardPuzzle online interactive platform was released to the public. We believe AwardPuzzle will attract more artists and critics to explore and discover the tips for success and more by themselves, and wish AwardPuzzle could contribute to the study of Chinese contemporary art.