︎︎Exhibition Unfinished
︎︎The Met Museum
2016
Technology Support
of
The Met Media Lab
Data Authorized by
the Exhibition Objects
of
The Met Collection
My Role: Concept
/UX Designer
/Programmer

New York, U.S
STORY

Unfinished: Thoughts Left Visible, an intriguing exhibition at New York's Met Breuer. It was Breuer's first major exhibit, brings together paintings, sculpture, drawings and prints from the Renaissance to the early 20th century. The works displayed in this exhibition are unfinished works by artists from all over the world. For one reason or another these works were left aside to be completed at a later date. Here's your chance to capture some of the most famous unfinished pieces throughout history.
"The show is a non-stop sequence of arousals and exhilarations."—The New Yorker
Unfinished Exhibition opens in a limited time period, but art should not be limited by time and space. Working as a researcher in the Met Media Lab, I consider how to keep these beautiful unfinished art work in our mind, in our daily lives? How can I expose the thinking of The Metropolitan Museum of Art's to a broader audience?
IDEATION

UNFINISHED CHROME EXTENTION
During an summer internship in 2016 at the
Metropolitan Museum of Art's Media Lab
, I built a chrome extension for extent the exhibition Unfinished.
This chrome extension deals with the premier show Unfinished.
Unfinished Chrome Extensions bridges the gap between busy audiences and exhibition objects, it deliver an unexpected and intriguing experience each time a Google Chrome user opens a new tab by sharing a breathtaking image from the Met's Collection Online, fostering daily interaction and encouraging curiosity.
Override the standard new tab page
with a random unfinished artwork from the Unfinished online collection
Function1
The logo of the Met on the left top corner links to the official website of the Unfinished Exhibition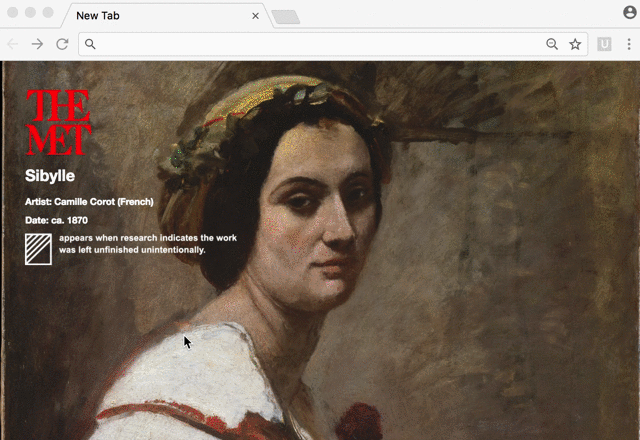 Function2
The title of the artwork links directly to the object page
Function3
We can identify which piece of artwork was left unfinished unintentionally with this special icon which was just used in the gallery.
Online viewer may be confused without this warm reminder, so I re-organize the database and add it to the chrome extension.
VERSION
UPGRADE
"The unfinished has been taken in entirely new directions by modern and contemporary artists, among them Janine Antoni, Lygia Clark, Jackson Pollock, and Robert Rauschenberg, who alternately blurred the distinction between making and un-making, extended the boundaries of art into both space and time, and recruited viewers to complete the objects they had begun."

In order to extent the concept further, I consider what if we open a digital way for audience to finish these unfinished artwork in their own way. To extent their art thinking on this digital canvas.

Unfinished Chrome Extension 2.0 provides a new way for us to learn, talk, experience and create art with these famous artist together.